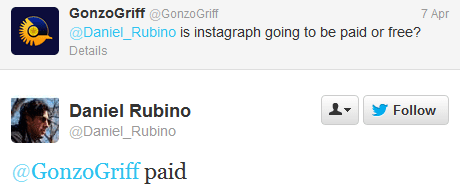 The Instragraph app, which uses a hack to allow Windows Phone users to upload their photos to the Instragram photo-sharing social network, is taking its own sweet time coming to the store, despite apparently already being approved. The delay is apparently for stress testing their online server infrastructure, necessary as they expect a flood of users due to pent-up demand.
Now Daniel Rubino from Mobile Nations, who has been close to the app and developers, has revealed that the app will be paid, not free. This of course makes sense, given that the server likely emulates an Android phone on the Azure clouds, and all those processing cycles cost money.
The danger however is that charging for Instagram service will likely result in an even faster Cease and Desist from Facebook's lawyers, and being based on a hack like this it is unlikely the app will work very long, despite the protestations of the developers, who have said their method can not be blocked.
Do our readers think it is sensible to pay for Instagraph, given that it is a work-around? Let us know below.
Via Reddit.com