April's fools is over, so I assume WPCentral is not pranking us with a tease for an app which can upload pictures directly to the Instragram photo social network.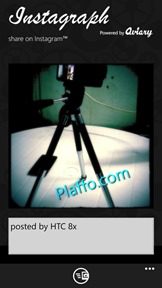 They posted the picture above, depicting a Windows Phone app Instagraph, apparently uploading a picture to the service.
Until very recently the Instagram API only allowed third party apps to view, comment and like pictures, but not to upload new ones.
They have recently allowed some 3rd party apps the privilege however,  including Hipstamatic on iOS.
It seems they may have finally extended that access to a Windows Phone app also. From the screen shot it appears the app uses the Aviary photo editor to apply the all important filters, the result of which can be seen here.   The client seems to be floating around further afield also, as can be seen from the screen shot (right) by Plaffo.com.
Would our readers be satisfied with a 3rd party app, or will only the real thing silence the clamour? Let us know below.
Via WPDaily