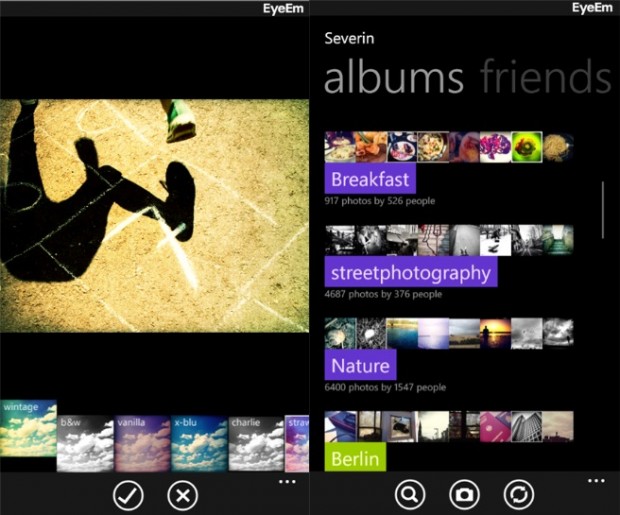 While Instagram has shown no indication of making the jump to Windows Phone, they are of course not the only photo sharing service in the market.
EyeEM is photo sharing service similar to Instagram which offers a simple and great way to share a moment with your friends and family. EyeEm comes with a neat range of filters and frames that let your photos look amazing.
The app is being supported by both Microsoft and Nokia, and one suspects that Microsoft is implementing the leaked strategy of supporting rival services if the main service refuses to support Windows phone 7.
The app description reads:
EyeEm is a photo sharing & discovery app that connects you with like-minded people through the photos you take.

• Edit: Take beautiful photos with 11 photo filters

• Share: Easily update your friends on Facebook, Twitter, Flickr, Foursquare & Tumblr

• Discover: EyeEm is like a realtime photo search engine: simply take a photo and discover albums of topics, places and events

• Taking photos together: find people who take similar photos of the albums you contribute to

Based on your location and your activity, you'll stumble upon new albums that are filled with photos from your friends and people around the world.
It's a whole new way of visually exploring what's around you!
Download the app here from the marketplace.
Thanks Jomon for the tip.