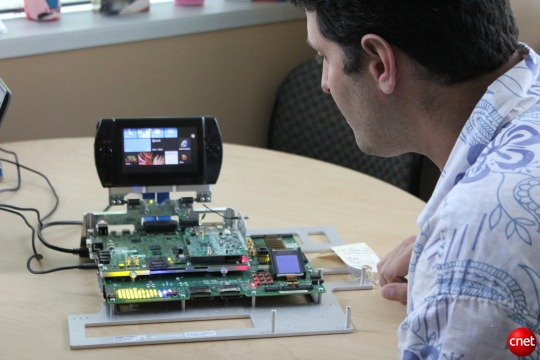 A rare look at landscape Metro on  a Qualcomm board
CNET's Ina Fried has been been lucky enough to be invited into the boiler room of the Windows Phone development team, where she has been able to interview Terry Myerson, Microsoft's VP for Windows Phone 7, and sit in on a few meetings between the developer team and also Microsoft and their OEM clients.
She describes an atmosphere of frenetic activity with a hard deadline of of "holiday 2010" and a team committed to creating a quality product in every way.
She notes that in the "ship room", where Microsoft developers sign of on their specific elements of the OS, increasingly more modules are declared consumer ready.
Calling Windows Phone 7 a 1.0 product, Terry admitted  they had a hard job ahead.
"I think we are going to have something very high quality and different this holiday," Myerson said. "We won't be better on every dimension and we won't be better on a feature point on all of the dimensions we wish we could… I think about this really as a first release, a first release for this team."
He however expressed quite confidence the company will win back the respect of consumers and smartphone market share.
"We've got a good product," he said. " I actually do believe that. I think we are going to actually have a lot of happy customers."
"We've got a number of things that could look impossible if you look at them subjectively, but it you actually piece by piece take it a part, you see a path forward."
A look into the various meetings saw engineers worry about boot times (the current 19.5 seconds is still 1 second less than their ambitious 18.5 second target), battery life ("Usually it runs out by about 2 o'clock," Qualcomm senior vice president Torrey Harmon said. "It was running out at about 11 o'clock when I first got it. It's better already than it was."), and satisfying carriers who bore the brunt of support costs and were key to the promotion of a device.
"In some ways the things that are tracked in great detail are always the things that seem to get taken care of," he said. "It's the intersections where complications occur."
He notes that the new Windows Phone was a 5 year project.
Talking about leaving features like cut and paste on the cutting floor, he said "We're going to reset, but it is going to take us five years to build a product we all want to have," he said.
"If you invest as people as craftsman and give them great tools, I think they will build great products." Myerson said. "Probably the most important thing we can give these guys is a clear plan. If the plan changes every three months, it's hard to do great engineering."
"I try to keep everybody focused on finishing," he said. "In some ways, that's what I worry about most. It's so easy to dream about what's next."
"I think when we look back on the release five years from now this was a foundational release not the release that broke through," Myerson said. "We've got some tough competition."
Recognizing the challenge, he ended. "If I can get out there and get some respect, for lack of a better word, from consumers, everything will get easier. Right now things are hard."
What is rather clear from this look into the Windows Phone 7 engineering team is that no-one is sitting around twiddling their thumbs, and regardless of the eventual success of the product, certainly the outcome this time wont be for want of effort.
Read the full fascinating article at CNET here.