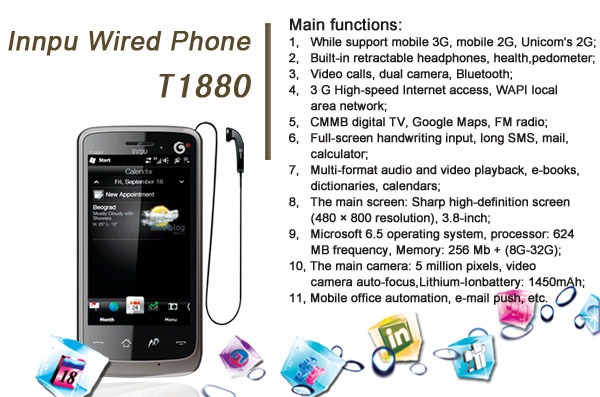 Its rather amazing when a device you have been dreaming of suddenly comes a reality.  Like many weird and wonderful things, the Innpu T1880 Windows Mobile 6.5 smartphone is only available in China, also like many handsets in the hyper competitive market, the device has features not usually available on a smartphone.
In the T1880's case it is a retractable headset which the company spent 5 years developing, and which they certify for up to 10,000 uses (that's probably at least 2 years of pulling it out 10 times per day) and which finally solves the problem of forgetting your headset at home.
The handset is no slouch otherwise either, with a fast 624 Mhz Marvell processor, 3.8 inch WVGA screen and is only 17 mm thick, despite the spooling mechanism and 1450 mAh battery in the back. The smartphone even comes with mobile digital TV and 5 megapixel camera with flash.
Now if only the company had included stereo headphones I would have ordered mine already 😉 .
If your needs however do not stretch to sound in both ears at the same time, read more about the product at Innpu here.