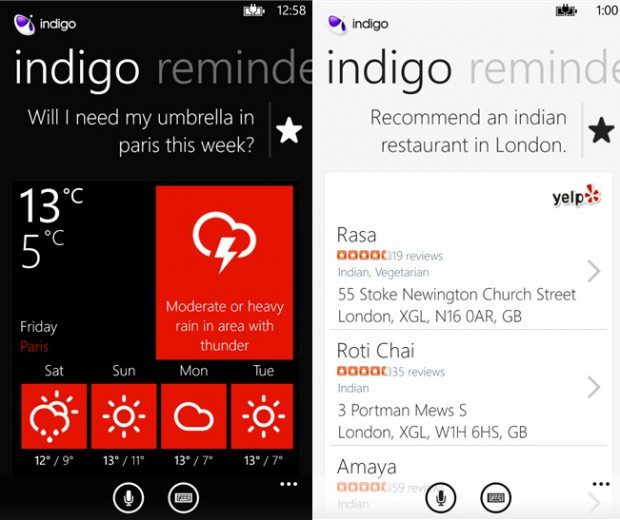 Indigo personal assistant app is now available for download for Windows Phone Device.
App Description:
Hello Indigo…
Indigo is the newest and cleverest voice-enabled personal assistant available.  Indigo is the only personal assistant who can seamlessly carry on a conversation with you from your smartphone to your tablet to your desktop and back again, perfect for users on the move.

Indigo can:
• Update Facebook
• Read, retweet and send Tweets
• Find recommended local restaurants, bars & local amenities
• Direct you to nearby locations and amenities
• Open Maps & point to point directions
• Create and store diary entries
• Save notes and reminders, alerting you at a specific time if needed
• Play music stored on your phone
• Play videos on YouTube
• Continue the same conversation across multiple online devices
• Set Alarms
• Search Your Contacts & Initial A Call or Message
• Find the weather forecast for worldwide locations
• Find the current time  for worldwide location
• Open Web Searches, Websites & get general knowledge information from Wolfram Alpha
• Tell you your horoscope
• Have fun with Jokes & Trivia
• And much more – all you have to do is ask!

Indigo runs on the Windows Phone 8 OS and is currently a Beta app, which means you may experience minor glitches as we refine it.  Please get in touch if you experience persistent issues.
Download it here from Windows Phone Store for free.