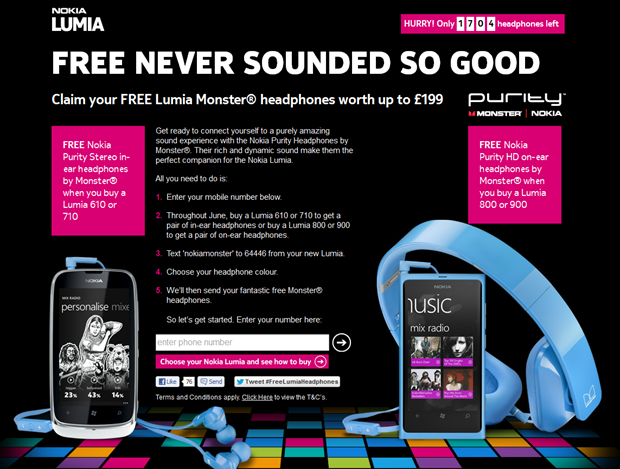 Nokia is offering a great deal to all Lumia buyers i n UK. Nokia is offering free Monster headphones worth up to 199 pounds to anyone who buys a Nokia Lumia, even a Lumia 610.
This promotion only applies to residents of the United Kingdom and you must be at least 18 years old. You must purchase any of the Lumia Windows Phones at an authorized retailer in the UK between June 1st and June 30th, 2012 to be eligible.
The rules are below
Buy a Nokia Lumia in June* and you can rock out with a free pair of Monster® headphones worth up to £199.

All you have to do is

• Go to www.nokiamonsteroffer.co.uk and enter your mobile number

• Purchase a Nokia Lumia 610, 710, 800 or 900 in June*

• Text 'nokiamonster' to '64446'

• Visit www.nokiamonsteroffer.co.uk  28 days after purchase and enter your details

• Tell us which colour headphones you want

• Then we'll send you the headphones your music deserves

*while stocks last – See T&Cs
There are only 1680 left at the time of writing, so check out the deal at  www.nokiamonsteroffer.co.uk right away.