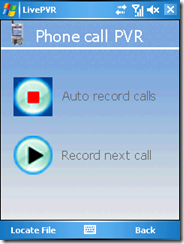 We have posted before about a way to enable In Call Recording for your Windows Mobile Smartphone, using software taken from a leaked Asian build of the HTC Touch HD. 
It seems there exists an even easier way, consisting solely of a simple registry edit (cabbed up) which will allow any voice recorder to record your phone calls.  This hack also works on a wide range of Windows Mobile Smartphones, both Professional or Standard.
To start recording see this XDA-Developer thread here, and for suggestions on software to actually do the recording (the build-in voice recorder works too) see this post at Smartphonemag.com.