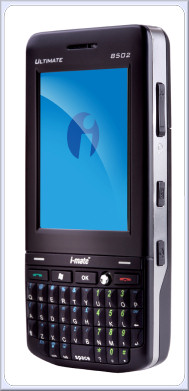 After a year of bad news, it seems Imate has found a ray of hope in the land of the rising sun. Imate is set to launch the Imate Ultimate 8502 on Japan Communications (JCI), a company which appears to be what we know to be an MVNO here, which runs its service over NTT Docomo's wires. JCI commenced 3G services over NTT Docomo, Inc.'s 3G network in August of this year.
JCI CMO Naohisa Fukuda said "We are pleased to offer i-mate unencumbered, SIM-lock free access to a Japanese wireless carrier network. We look forward to a long and fruitful relationship with i-mate and to facilitating the market entry of many more of their devices."
Speaking about the i-mate Ultimate 8502's certifications in Japan, i-mate Founder and CEO Jim Morrison said "I'm proud to be able to work with JCI to offer the i-mate Ultimate 8502 to customers in Japan. As one of the world's most advanced mobiles, the Ultimate 8502 is fast and fully connected, and well placed to leverage Japan's advanced networks. This makes it ideal for those wanting a powerful touch screen mobile with extra smarts."
The Ultimate 8502 offers a compelling list of features and functionality, including Windows Mobile 6.1, QWERTY and touch-screen input, GPS, WiFi and Bluetooth connectivity. Direct Video Out allows the device to be connected to projectors and Televisions to view presentations, photos, and video calls on the big screen. Word Mobile, Excel Mobile and Powerpoint Mobile come as standard with the device, meaning users can opt to use the Ultimate 8502 in place of their laptops while outside the office. i-mate customers throughout Japan will also receive free and exclusive access to i-mate's i-Q suite of solutions.
Reflecting on the significance of the i-mate and JCI partnership, Jim Morrison said "Today marks a significant step forward for i-mate. We are delighted to be given the opportunity to work with JCI, and look forward to working closely together to deliver outstanding mobile solutions to customers throughout Japan."
As one of the first Windows Mobile OEM's we wish i-mate well in their eastern venture. They certainly need it, after having recently been delisted from the London stock exchange.
Read more about the deal at Hardwarezone.com