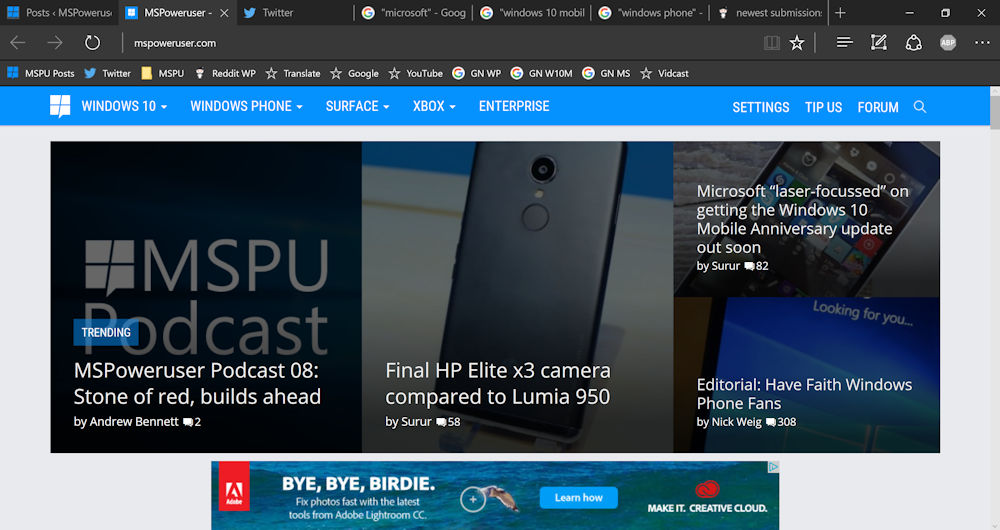 I've never been an Internet Explorer user, except on my Windows Phones and Windows RT tablet, and there it was mainly due to lack of choice.
The arrival of extensions on the latest Edge browser has however piqued my interest, as in recent years I have always found Microsoft's browsers to use fewer resources, but have not found them full featured enough to use as my main browser. IE of course always had extensions of some kind, but these were generally of low quality, variety and power.
Now with Edge supporting Chrome extensions I have decided to give it another chance, and so far I have been pleasantly surprised.
I of course loaded up the browser with some choice extensions (from the small list in the store), that being Adblock Plus, Mouse Gestures and Translator for Microsoft Edge. I also followed the recent advice to disable Flash (under Settings> Advanced Settings> Use Adobe Flash Player). I of course also changed to the Dark theme (under Settings> Choose a theme) and switching off that annoying launch page (Settings>Open New Page with Top Sites and Suggested Content).
So far the experience has been pretty good. My PC fan kicks in a lot less now, my scrolling is super-smooth and fonts rendered amazingly, and I feel I am finally using a browser that pays at least a smidgen of attention to touch. Unused tabs actually suspend in the background to save power and Cast Media to Device actually casts YouTube video to my smart tv, meaning I am no longer a slave to Chromecast.
Of course there have also been some issues – minor ones but ones I think which reflect the immaturity of the browser.
Examples include:
Bookmark Bar links do not open into a new browser – this means you have to be careful about opening a new tab first or shift-clicking them to not for example closing a page when you are writing an article.
Edge either forces you to open all your previous pages at launch or none. Ideally it should ask you at launch if you want to restore your previous session.
You are unable to edit bookmarked  urls and it does not seem you can drag bookmarklets to the Bookmark Bar anymore.
No jump lists from the task bar to open an inprivate window or jump to a tab.
Controversially (I am sure) my browser of choice is Maxthon, which has been polished over the years to a very fine feature set and a huge number of customization options which addresses 90% of my needs. Given than most of our work is browser-based even sticking to Edge for 24 hours is an achievement, and I have not run into any show stoppers yet. I do hope however that Microsoft continues their polish on the browser and irons out the annoyances which can turn people away and make them switch back.
Have any of our readers given the new Edge a chance? Let us know your experience below.