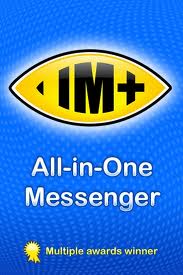 When IM+ was originally released on Windows Phone 7, it was missing Windows Live Messenger capabilities.  It was cited that Microsoft asked them not to include it.  Then, an update came out, and it was included.  Now, it appears Microsoft has once again requested IM+ to remove this functionality.
From IM+'s Facebook page…
Dear IM+ Windows Phone users,
This is sort of good news / bad news announcement.
Good news: IM+ Windows Phone version 1.4 has been submitted to Microsoft Marketplace with new awesome features, complete list will follow.
Bad news: MSN/WLM support has been dropped due to Microsoft request. For those of you who care more about MSN/WLM support than new features (again, new features list will follow), we strongly recommend to do not update once version 1.4 is released.
You have every right to ignore the update once it goes live, if you use WLM with IM+.  Of course, we all know that WLM is integrated into WP7 Mango, and I can personally attest that it works flawlessly.  If you choose to ignore the update, this is what you miss…
– Significantly improved contact list scrolling and overall application performance
– Push-to-Email option allows incoming messages to be forwarded to your email
– Autoreply feature will instantly notify your contacts that your are in Push mode
– ICQ / AIM / AOL / iChat group chats
– ICQ contacts can now be added into your AOL/AIM/iChat contact lists and vice versa
– VKontakte and Yandex IM services are now supported
Will you update?  Or will you hold off until you have Mango on your phone?