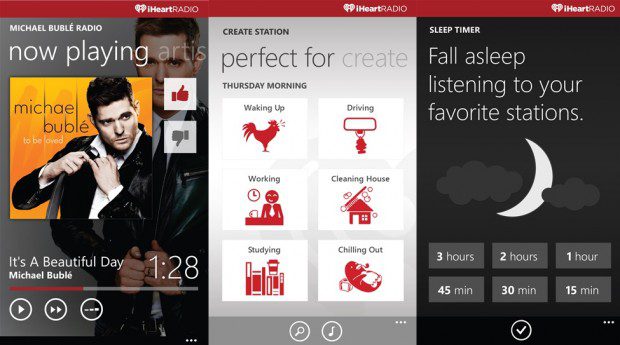 After a long time, iHeartRadio has updated their app for Windows Phone 8 devices. This app now includes access to over 1,500 live stations from across the U.S., along with user-created custom stations that feature more than 400,000 artists and 16 million songs. It also has some unique features such as the "Perfect For" feature which matches a station with your mood as other iHeartRadio users.
Apart from the service features, it supports live tiles, lockscreen image in Windows Phone 8 as well.
App Description:
THE BEST OF LIVE INTERNET RADIO
Listen to more than 1,500 live radio stations from coast-to-coast including pop, country, hip-hop and R&B, rock, talk, news, sports, and more. Browse radio stations by music style and location, then hit the scan button to move from radio station to radio station within a format. Let our DJs know what songs are hot or not by giving them a thumbs up or thumbs down.

CREATE YOUR OWN STATIONS
Simply pick a song or artist to create your own commercial-free Custom Station featuring free music from that artist and similar ones. Choose from our catalog of over 16 million songs and 400,000 artists. Use iHeartRadio's exclusive Discovery Tuner to control how much variety you want in your music.

RECOMMENDATIONS PERFECT FOR YOU
Let iHeartRadio recommend stations perfect for any activity, mood or situation. Whether you are at work, driving, studying, relaxing, going out or working out, the "Perfect For" feature helps you find music for the moment.

ANYTIME, ANYWHERE, ALWAYS FREE
Take your favorite radio stations and Windows Phone music wherever you go. Log in to iHeartRadio for free through email or Facebook to make iHeartRadio uniquely yours. Create, save, and share your internet radio stations from wherever you access iHeartRadio.
Download it here from Windows Phone Store for free.