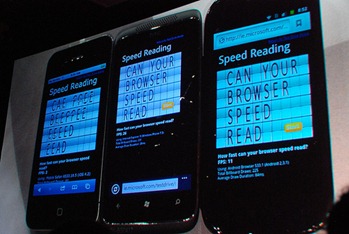 Speaking to Techradar,   Joe Marini, Principal Program Manager for IE on Windows Phone said IE9 for Windows Phone 7 was "code complete".
This meant the team was now only left to debug, and performance tune, with an emphasis on graphics performance.
This emphasis on performance meant the browser was just getting faster – in a MIX 11 demo the browser achieved 23 fps vs 11 on Android and 2 on the iPhone – now it achieves 27.
The web page rendering experience will also improve over slow connections.
"We took a holistic view of performance in the world of mobile where you have got spotty data connections or network congestion. We have a nice tiled rendering experience where as the site is coming down, we detect where a user is scrolling in the page and we provide those tiles first." he said.
What is not coming along well however is Flash, with Marini taking seemingly a hard line against the technology.
"We don't do stuff like ActiveX, we don't have browser helper objects, we don't have binary plug-ins. A lot of things that were security issues, we simply didn't do on the phone – a, because we didn't need them and b, for security."
After IE9 comes IE10, and Marini promised development of the desktop and mobile browser will happen in parallel.
"If you play with the preview of IE10 on the desktop you can get a sense of where IE10 on Windows Phone is going to go," Marini hinted. "We're looking at how we can make web sites more integrated with the whole phone experience," with suggested improvements being offline caching of web apps and ways to link between apps and web pages.
Read more at Techradar here.
Thanks Vanderson for the tip.