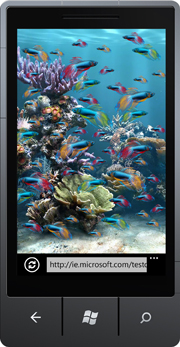 We already know that the browser on Windows Phone 7 is modular, and can be updated separately from the rest of the OS.
Now we have a hot tip from the same person who accurately foretold the pre-NoDo update, that IE9 may come to Windows Phone 7 well before the Mango update towards the end of the year, and will in fact support Silverlight in addition to HTML5.
Given the reputation of our tipster I am inclined to believe we will be seeing a IE9 update pushed out well before fall 2011, making Windows phone 7 not just the smoothest platform, but soon also the one with the fastest browser.
Thanks Sylar for the tip.