IDC has delivered their forecast for total smartphone shipments for 2014 and the results aren't overly pretty for Windows Phone.  By the end of the year a total of 35 million devices will be sold, according to IDC's quarterly mobile phone tracker. This stands in stark contrast to IOS and Android which have shipments of approximately 180 million and 1 billion respectively. Windows Phone now holds 2.7 percent of the overall smartphone market. Though Microsoft has adopted a low-end strategy to attempt to push volume, it doesn't appear to have been very effective. Indeed IDC states that "it  is no longer a possibility for new operating systems like Tizen and Firefox to compete on price alone – any underdog OS must bring a radically different appeal to gain any significant traction."  While Windows Phone isn't explicitly mentioned, it is clear that Microsoft needs to be taking notes.
On the bright side, IDC predicts that Windows Phone will more than double in shipments and reach a total of 105 million in  2018 for a marketshare of 5.6 percent. iOS will ship 240 million in that period and Android, 1.4 billion.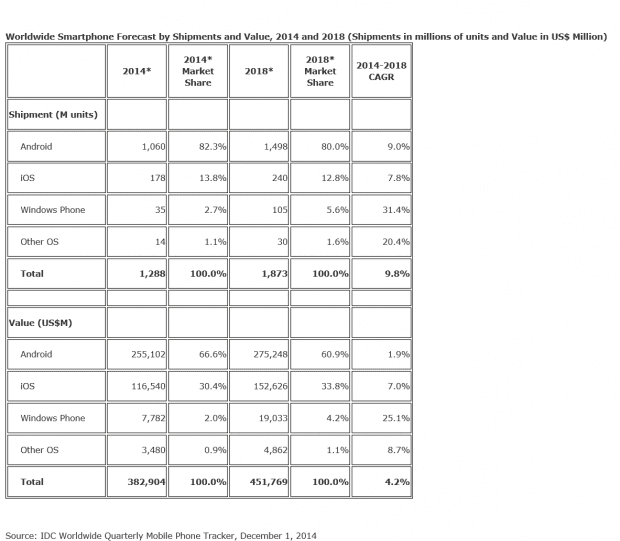 It is worth noting however that this data is based on the assumption that the market stays the same as it is now. For all we know, Windows 10 could be shipped with such  a strong line up of devices that it displaces iOS or Apple could ship low0mid range devices as well and increase its share of the marketshare. Heck Firefox OS and Tizen or maybe even BlackBerry could take the market by storm. The point  is, in the world of mobile tech, no one remains dominant for long and the fall from reigning champion to has-been is a swift one. Just ask BlackBerry.
How do you feel about these new statistics? Do let us know in the comments.
Source : IDC