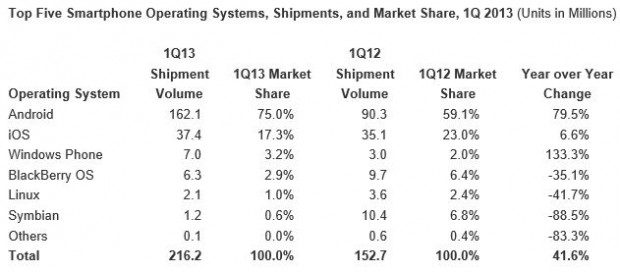 The IDC have released their full  figures for Q1 2013, and the numbers confirm slow but steady progress for Windows Phone.
The numbers for the first time show Windows Phone ahead of Blackberry, with 7 million shipments vs 6.3.
The growth of 133% Year on Year impressed Ramon Llamas, research manager with IDC's Mobile Phone team, who wrote:
"Underpinning the worldwide smartphone market is the constantly shifting operating system landscape. Android and iOS accounted for more than the lion's share of smartphones in the first quarter, but a closer examination of the other platforms reveals turnaround and demand for alternatives. Windows Phone has benefited from Nokia's participation, and BlackBerry's new BB10 devices have already hit a million units shipped in its first quarter of availability."
Kevin Restivo, senior research analyst with IDC's Worldwide Quarterly Mobile Phone Tracker said:
"Windows Phone claiming the third spot is a first and helps validate the direction taken by Microsoft and key partner Nokia. Given the relatively low volume generated, the Windows Phone camp will need to show further gains to solidify its status as an alterative to Android or iOS."
Windows Phone posted the largest year-over-year gain among the leading operating systems, more than doubling its size from a year ago. The IDC notes Nokia was largely responsible for driving these volumes higher, accounting for 79.0% of all Windows Phone shipments during the quarter. Since Nokia began shipping Windows Phone devices, the company has shipped a total of 20.3 million units and grown the footprint worldwide to include address multiple market segments. Meanwhile, other vendors continue to offer Windows Phone devices, but mainly as an alternative to their signature Android devices. Still, the gains made by Windows Phone demonstrate both end-user demand and OEM support.
Compared to Windows Phone's 133% the iPhone only grew shipments 6.6%, and fell from 23% to 17.3% market share.
Android of course managed the largest share, at 75% of the market, but it is not difficult to see Windows Phone over taking iOS as an alternative open platform vs the closed Apple platforms.
See an interactive chart of the various operating system shares after the break.