Tablet sales, much like those of full fledged PCs, have been declining over the past few years. Consumers have been holding off on unnecessary purchases, and though Microsoft has released Windows 10 to the masses with hopes of boosting the market, that upgrade period has since come and gone. Well IDC has finally released the numbers for tablet PC shipments for Q2 2016, and much like its mobile counterpart, Windows comes in a distant third to the likes of iOS and Android.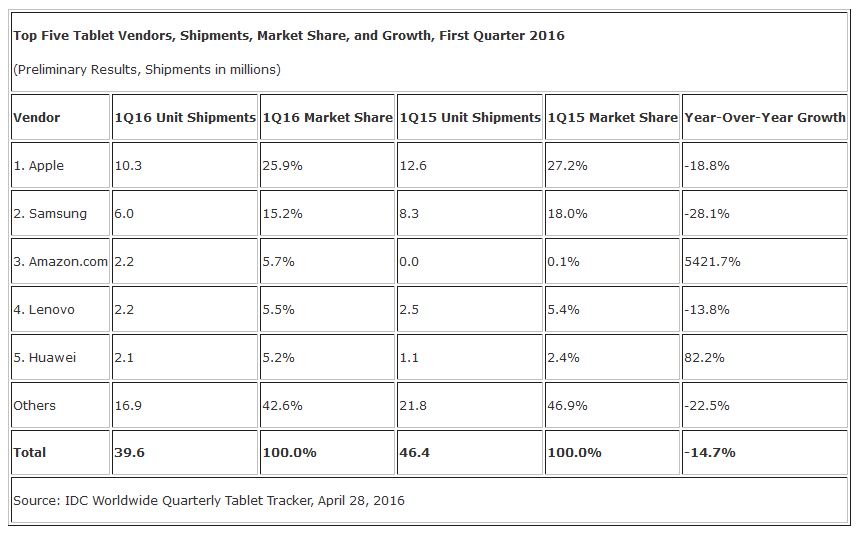 In what looks like a play for play of the smartphone market, Android reigns over the market with 65%. Apple takes the number 2 spot with 26%, and Windows take a distant third with the remaining 9% (alot better than its current mobile share). As far as individual vendors are concerned, Apple comes in first with 25.8% of tablet shipments, an increase from last year despite selling 1 million less tablets. Samsung comes in at #2 with 15.6%, having sold 2 million less tablets than the same time last year. Lenovo, Huawei, and Amazon round out the top 5, in that order.
"The market has spoken as consumers and enterprises seek more productive form factors and operating systems – it's the reason we're seeing continued growth in detachables," said Jitesh Ubrani, senior research analyst with IDC's Worldwide Quarterly Mobile Device Trackers. "At present, it's difficult for Android to compete with iOS or Windows detachable products. However, the next 12 to 18 months will be very interesting as Google launches the next version of Android with better multi-tasking support and as they begin to bring together their two operating systems."
Despite the continued decline in slates, the form factor still accounts for over three-quarters of the market. "While growth in the detachable category is undeniable, slates continue to represent the vast majority of the segment. Vendors like Amazon, with a very focused approach to positioning, price, and purpose, managed to capture a considerable share of the market. Slate sales are declining but they still serve a purpose and will do so for a long time to come," said Jean Philippe Bouchard, research director, Tablets at IDC.