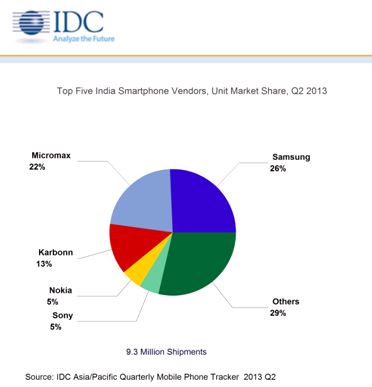 IDC today released their smartphone marketshare report for India. Smartphone vendors which includes both MNCs like Nokia, Samsung along with local OEMs shipped a total of 9.3 million smartphones in 2Q13 compared to 3.5 million units in the same period of 2012. Nokia is now holding 5% of the total Indian smartphone market. Nokia is facing a tough challenge against local OEMs who are now dominating the market with low quality cheap smartphones. For example, you can get a local vendor smartphone with the same specs as Lumia 920 for just Rs.13,000 (200 USD).
Nokia: With the company's decision to discontinue Symbian devices, the entire focus has moved to the Lumia range of smartphones. The recently launched Lumia 520 helped Nokia pick up volumes towards the lower end. The dedicated advertising and marketing push towards positioning Lumia phones as a quicker and cooler replacement to other brands is working in its favor.
Nokia needs more devices like Lumia 520 to survive in the price-sensitive Indian market.
Source: IDC