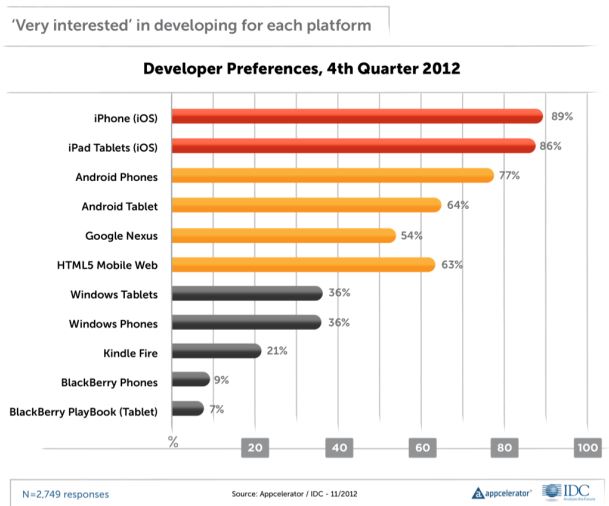 IDC today released their Appcelerator quarterly report for Q4 2012. According to the report, 36% of the developers surveyed by IDC were interested in Microsoft's mobile platform Windows Phone. The same number of developers were also interested in Windows tablets.
While not the biggest number, it is pretty good considering the size of the Windows Phone and Windows 8 tablet installed base.
Platform device sales is the major concern for developers to invest in both the Microsoft's platforms. I hope the sales numbers of Windows Phone devices and Windows tablets will grow significantly in 2013 which will lead to  more developer interest.
IDC commented the following on Microsoft Surface interest among developers,
Developers are impressed with the tablet hardware delivered by Microsoft through its Surface offering. However, they believe Microsoft still has significant work to do to make Windows 8 a successful mobile platform. 20% of developers are impressed with the hardware and think it will accelerate Microsoft's mobile ambitions. However, 35.5% of developers believe that while the tablet may be a nice piece of hardware, Microsoft needs more to be successful. To accelerate the success of the Windows platform for mobile devices, the company will need to make investments in developer relations and application enablement.
Read the full report from the link below.
Source: Appcelerator/IDCÂ