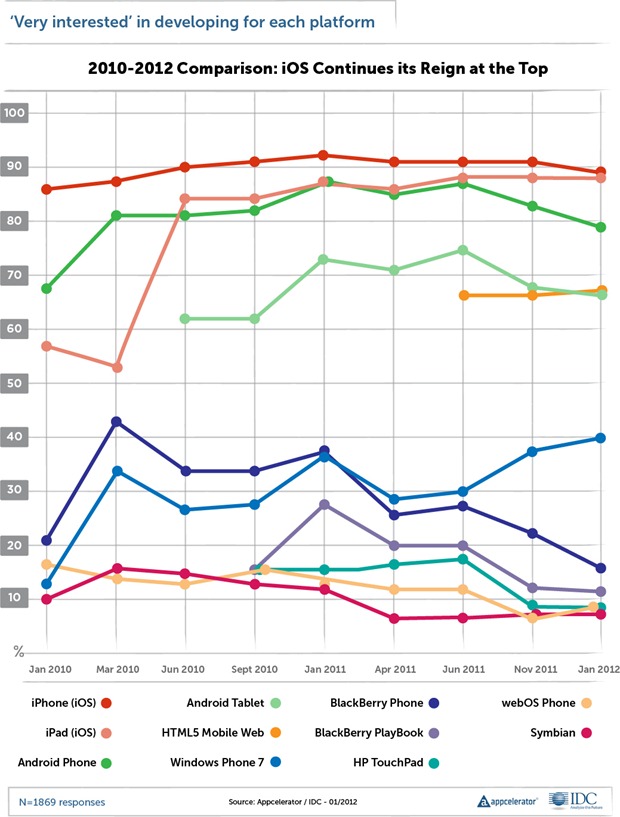 IDC and Appcelerator's regular quarterly survey has for the first time shown a trend of dropping interest in the Android platform, which the analysts blames on fragmentation of the platform. 
For 2 quarters in a row now interest has been dropping in developing for Android, with developers very interested dropping to the 78% level at the moment.
"We've seen a steady erosion of interest in Android" among developers, Appcelerator's principal mobile strategist Mike King told The Register.
About a year ago the number of developers who said they were "very interested" in developing for Android for smartphones was just 3 percentage points behind iOS for iPhone and 2 points behind iOS for iPad.
"We believe it's really because of the fragmentation that Android's experiencing," King continued, "both at the platform and OS level, but also at the monetization-model level," due to multiple Android app stores.
Windows Phone seemed happy to step into the gap.
"The fact that Windows Phone is increasingly a strong third in interest level, and the fact that we're getting some compelling Windows Phone devices out there, I think is going to cause some problems for Android over the long term if they don't do something to curtail that fragmentation."
Over the same two quarter period Android developer interest dropped from the high 80's to high 70's, Windows Phone increased in developer interest from 30 to 40%
Windows Phone has increasingly separated itself from other "also ran" mobile operating systems like Blackberry and webOS.
"All the BlackBerry stuff? Just continuing to drop," King said, and the survey showed the number of developers very interested in webOS phones to be at a dismal 7.5 per cent, and webOS tablets, 8.4 per cent.
Read more at The Register here.