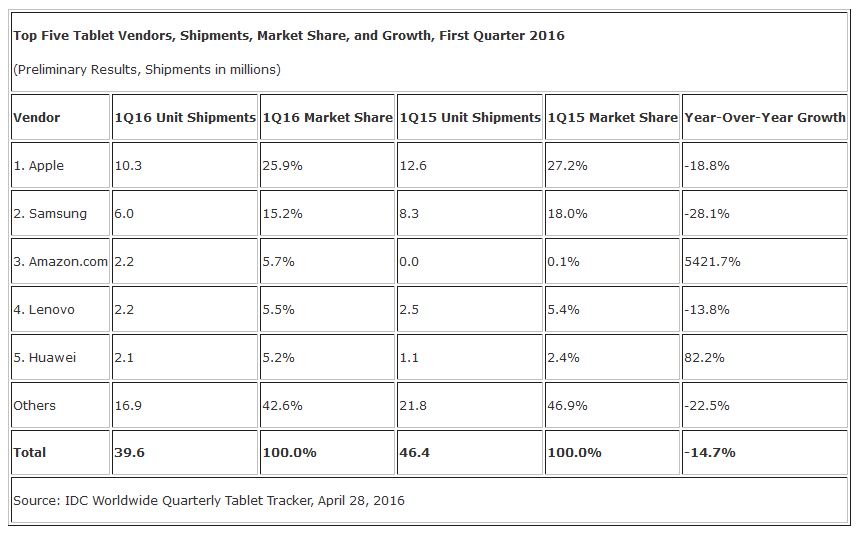 IDC today released their Worldwide Quarterly Tablet Tracker for the the first quarter of 2016 (1Q16). Worldwide shipments of tablets (including 2-in-1s) reached 39.6 million, an decline of 14.7% from last year. IDC said that detachables (2-in-1 devices like Microsoft Surface) experienced triple-digit year-over-year growth on shipments of more than 4.9 million units. Actually, Microsoft created the market for detachable tablets with the launch of their Surface line of products. Recently, Apple ripped off Microsoft Surface to introduce their own similar product called iPad Pro.
"With the PC industry in decline, the detachable market stands to benefit as consumers and enterprises seek to replace their aging PCs with detachables. Apple's recent foray into this segment has garnered them an impressive lead in the short term, although continued long-term success may prove challenging as a higher entry price point staves off consumers and iOS has yet to prove its enterprise-readiness, leaving plenty of room for Microsoft and their hardware partners to reestablish themselves."
Due to eroding margins in regular tablets, IDC noted that traditional "mobile first" vendors like Samsung (TabPro S) and Huawei (MateBook) have not introduced 2-in-1 devices.
"The introduction of detachables from traditional smartphone vendors is only beginning and pose a real threat to traditional PC manufacturers," said Jean Philippe Bouchard, Research Director, Tablets at IDC. "Their understanding of the mobile ecosystem and the volume achieved on their smartphone product lines will allow them to aggressively compete for this new computing segment. It is likely that those smartphone vendors will utilize the detachable segment to create new mobile computing end-user experiences if customers are using their detachables in combination with their smartphones."
Check the full report here.