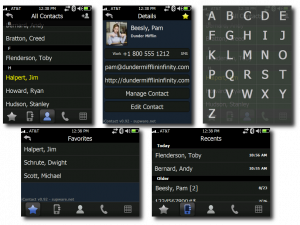 There is a program that XDA Developers member, supbro, has developed to improve the experience of using your contacts on your WinMo device. The program is called iContact v0.92, and it has just recieved a healthy update.
Supbro has worked very hard to bring you these updates, and any donations made will not only be appreciated by the developer, but will also secure you access to beta versions of iContact. Not too bad of a deal. Here is a list of the imrovements on v0.92:
Added support for True VGA skins
Made true VGA versions of default and iphone skins
Removed iphone skin from default install .cab file
Moved skin colors to skin.png file; eliminated .skn files
Sped up graphics in Settings
Cleaned up unused code in Settings
Fixed display bug with 320×320 screens
Added touch and wheel sensor scrolling for diamond (thanks l3v5y!)
Now stores settings in registry, removed settings.ini
Restored d-pad right arrow to send SMS for selected number
Reduced iContact.cab file size by 20%
Added "Favorites" category to language file
Improved "download more skins…" and "download more languages…" web pages
Please note: iContact 0.92 will work with all WM5.0 and above devices, even non-phone devices. But it will not work with WM2003 devices. For those, iContact 0.6 should work.
Another thing worth mentioning about iContact, is the fact that it resembles the diamond as far as the look and feel, but other skins can also be downloaded at the developers site. After all, variety is the spice of life.
To see the thread on XDA, head here, or go straight to the developers site here. Then hit the comments and let us know how iContact performs for you.