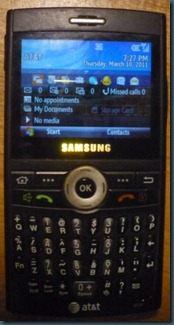 With my phone contract about to expire at the end of the month, I had planned to get a Samsung Focus, but instead, I will hold on to a reclaimed  Samsung Blackjack that I just upgraded to Windows Mobile 6.0. Why you ask? Well firstly, as much as I love WP7, Microsoft's whole fiasco with the first update, no, the initial lack of transparency about the delay among other things has made me change my mind. It wasn't until reports surfaced from the support forum and a blog based in France did they finally come out and make an official statement.
Secondly there is no indication that there will be any more updates after (NoDo) until the fall Mango update. For my needs, the Samsung Blackjack does all I need. The Xbox Live, Zune integration and even the superior apps, are not enough to convince me to purchase a product that will not be to my liking  until the fall. By then, there will hopefully be a first party Windows Live Messenger client, custom ringtones, a more fully featured Bing client with turn by turn navigation and all the other little things that I would like to have on my smartphone.
Thirdly, even better, the fall/holiday season will usher in newer devices with better specs (hopefully the first batch of Nokia Phones) better designs (I don't care much about the current crop of phones and please, can some make a phone with real buttons instead of capacitive ones?) and last but not least, if we are not going to have removable cards, how about at least one OEM produce a WP7 device with 32GB if not 64 GB worth of storage?
The Mix conference next month promises to unveil more about the future of the OS but after being a little let down with scarce information at Mobile World Congress last month, the gap between when new features and fixes are announced and when we actually will see them implemented on phones makes me think that it wont be until the end of the year when we'll see any dramatic changes to the OS. I've read that Microsoft could in fact be closely guarding the surprises so as not to give their competition any chance to copy them, well and good, I will believe it when I see it!
Just to ease your minds if anyone cares, I have no plans or even considered getting an Android device. I dislike the interface and OS in general while the iOS icon/app-centric model doesn't impress me much either. Blackberry is a no go while WebOS is something I haven't played with much but I like the Touchpad. I believe that Windows Phone 7 implements most intuitive user experience for a mobile OS, but the missing parts and just mainly the lack of information about a general timeline on when to expect the little things to be fixed, creates a high enough barrier to keep me from jumping onto the WP7 bandwagon.
I have some helpful advice to the Windows Phone PR machine, you need to get your act together and address issues as soon as they crop up instead of waiting for days before you react to news good or bad about the OS. I think your slow reaction is eroding the goodwill you have with your enthusiast fan base as to why they should care to keep on promoting the OS. Like I said before, there needs to be a point man, just like the President has press secretary who everyone can depend on to get the news about what is going on instead of a blog post.
As for me, it seems the Blackjack and I will extend our friendship until the fall when hopefully, things will have expectedly improved on the Windows Phone 7 horizon. Microsoft can take their time to make the necessary improvements and rightfully so. I am patient enough to wait until then. Don't get me wrong, I still recommend WP7 to all my friends and family who are ready to upgrade to a smartphone, and who I know that their usage needs will be covered by the OS (for a lot of users, WP7 is more than sufficient). There are great aspects of the phone that I will continue to write about. This post is not a rally cry against, or a  bashing of the OS as I know I will be accused of in the comments, it is just my personal deliberation, now made public, as to why I have chosen to take the road less travelled for someone who considers themselves to be a tech enthusiast.