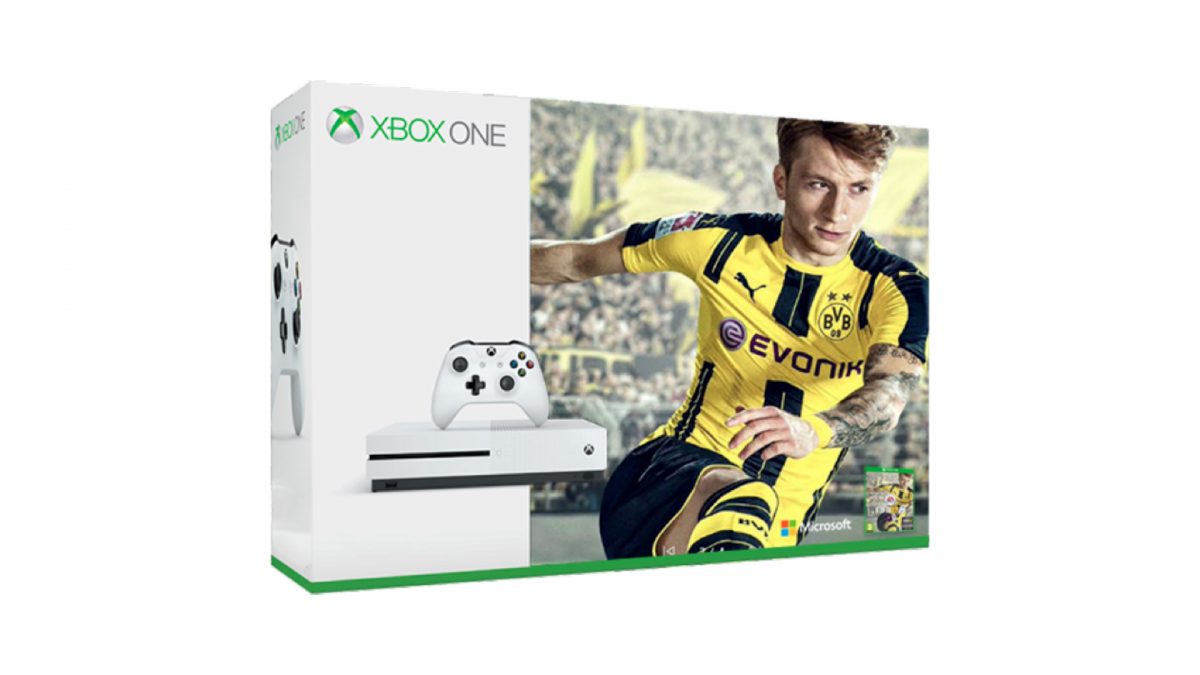 Right now, UK online retailer GAME has the 500 GB Xbox One S FIFA bundle, along with Injustice 2, Halo 5, Gears of War 4 and 2 months of NOW TV with a Sky Cinema Pass for only £209.99.
Xbox One S Fifa 17 Bundle (500GB)
The Xbox One S FIFA 17 Bundle (500GB) includes three Loan Legends and one month of EA Access, only on Xbox One. Featuring 4K Blu-ray™, 4K video streaming, High Dynamic Range and a full game download of FIFA 17. Powered by Frostbite™, FIFA 17 delivers true-to-life action, takes players to new football worlds, introduces characters full of depth and emotion, and immerses you in authentic football experiences like FIFA 17's The Journey, a brand new cinematic and narrative-driven mode.

And with EA Access, play EA games for a limited time before they're released and get unlimited access to The Vault, exclusively on Xbox One. With all the biggest blockbusters this year, and over 100 console exclusives, there's never been a better time to game with Xbox One.
Injustice 2
Injustice 2 is the super-powered sequel to the hit game Injustice: Gods Among Us that allows players to build and power up the ultimate version of their favorite DC characters. Featuring a massive selection of DC Super Heroes and Super-Villains, players can personalize iconic DC characters with unique and powerful gear earned throughout the game.  Additionally, for the first time, gamers can take control of how their characters look, fight and develop across a variety of game modes.

PRODUCT FEATURES:

Every Battle Defines You:  Injustice 2 expands on the previous title's larger-than-life showdowns.  With every match, players earn gear to equip, customize and level-up their favorite DC Super Heroes and Super-Villains that meaningfully impacts not only how they look, but also how they fight.

Massive Roster of DC Characters:  Players can choose from the biggest DC roster ever offered in a fighting game, from classic fan favorites such as Batman, Superman, Supergirl, The Flash, Aquaman, Wonder Woman and Blue Beetle, to astonishing new villains like Atrocitus, Gorilla Grodd and Deadshot.

Epic, Cinematic Storyline:  Injustice 2 continues the story set in motion in Injustice: Gods Among Us as Batman and his allies work towards putting the pieces of society back together, but struggle against those who would restore Superman's Regime.  In the midst of this chaos, a new threat appears that will put Earth's very existence at risk.

Built by NetherRealm Studios:  Developers of the best-selling and critically acclaimed Mortal Kombat franchise, NetherRealm Studios brings unrivaled storytelling, robust content, and best-in-class fighting mechanics to the DC Universe.
Halo 5: Guardians
A mysterious and unstoppable force threatens the galaxy, the Master Chief is missing and his loyalty questioned. Experience the most dramatic Halo story to date in a 4-player cooperative epic that spans three worlds. Challenge friends and rivals in new multiplayer modes: Warzone, massive 24-player battles, and Arena, pure 4-vs-4 competitive combat.

Key Features:

An intense new story on a galactic scale: Play as the Master Chief and Spartan Locke as the hunt plays out across three new worlds
Your team is your weapon: Choose how to achieve objectives while playing solo with AI teammates or with friends in a 4-player cooperative experience using your Xbox Live 14-day Gold trial.
Warzone: New, massive-scale multiplayer mode that supports 24-player battles with both friendly and enemy AI dropping in. It's nonstop action when you confront Spartans, Covenant, and Forerunners while trying to complete a variety of objectives.
Arena: Halo's established legacy of pure, skill-based 4-vs-4 competitive combat.
New rewards system: Earn Requisition Points throughout the multiplayer experience, redeemable for REQ packs that deliver new gear, weapons, vehicles, and more.
Extensive Multiplayer Content: Receive more
Gears of War 4
A new saga begins for one of the most acclaimed video game franchises in history. After narrowly escaping an attack on their village, JD Fenix and his friends, Kait and Del, must rescue the ones they love and discover the source of a monstrous new enemy.

•Never Fight Alone: Enjoy two-player co-op campaign with friends locally in split-screen or over Xbox Live. Player 2 can select either Kait or Del.

•Horde 3.0: Team up with four others and battle wave after wave of increasingly difficult enemies by choosing your combat class, leveling up your skills and deploying fortifications anywhere on the map.

•Explosive Versus Multiplayer: Compete online in new and favorite game types, all at 60fps on dedicated servers. A new visible ranking system means fairer matchmaking for social, competitive and professional players alike.

•Redefined Cover Gameplay: New weapons, close-cover combat moves and combat-knife executions turn each piece of cover into an offensive opportunity.
NOW TV Movies 2 Month Sky Cinema Pass
Get Sky Movies without a contract. Catch the movies you missed at the cinema, plus the ones you want to watch again and again.

Over 1,000 movies live and on demand
30 new movies a month
Watch instantly on loads of devices including Xbox One, Xbox 360, PS4, PS3
No installation. Use your existing Wi-Fi

To get started, all you need to do is:
1. Go to NOWTV.com/moviescard
2. Once there, create your account in just minutes
3. Begin watching your content at NOWTV.com or download the app and watch on almost any device (3G/4G or 2.5mb broadband connection required)
You can take advantage of this deal here.