AllaboutPhones.nl seems to have managed to lay their hands on some photos of a slide deck from a Huawei presentation in which they discuss their Windows Phone product strategy.
The picture shows the company plans to have Youth handsets with the best value (presumably WP 7.8), then Gold handsets, which are balanced and value for money, Platinum handsets which features design and fashion, and Diamond high end models which were innovative and gadgets in their own right.
The last 3 handsets would all run Windows Phone 8.
The Ascend W1 is labelled as the handset which will make Windows Phone 8 accessible to the masses (much like the Nokia Lumia 620 is doing).
At the price if 149,99 Euro prepaid on Vodafone that is certainly a reasonable goal, and Huawei has an additional value proposition for punters.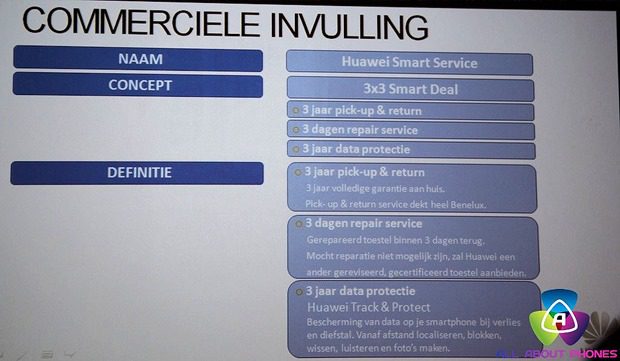 The handset will come with a laptop-like service plan, with 3 year pick up and return in Benelux, 3 day repair service, 3 year data protection, including locating the handset, blocking it, wiping it and the facility to listen in and take photos.
How Huawei intend to implement this on Windows Phones when western governments are already suspicious about them being involved in Government spying remains to be seen 😉 .