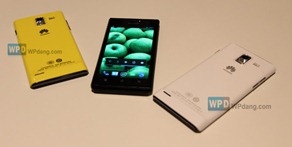 WPDang reports that new Microsoft partner Huawei has decided not to commit any resources with developing Windows Phone 7 handsets yet.
Apparently a handset has been under development, but due to an internal leadership shuffle the strategy has changed inside the company, and the Windows Phone team has been disbanded.
Huawei is planning to unveil some fetching looking Android handsets which are only 6.8 mm thick, so it is somewhat a pity we will not see their products running our favourite mobile OS.  On the other hand with ZTE on board in China and Nokia also introducing Windows Phone 7 handsets there it is likely less of an issue than one suspect.
Via WPSauce.com