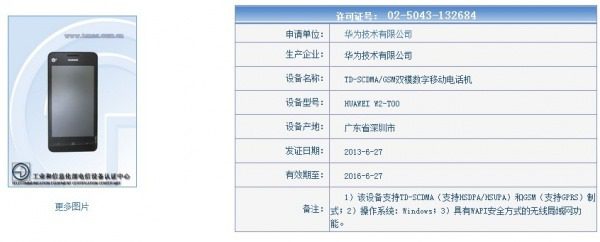 The Huawei Ascend W2 has recently officially unveiled.  The mid-range Windows Phone was shown of at GSMA 2013 and was shown with China Mobile branding, heading to its proprietary TD-SCDMA network.
The handset has now passed though Chinese TENAA certification, meaning it can now be sold on their network. China Mobile is the world's largest carrier, with more than 700 million subscribers.
While the device is not the high-end handset we have been hoping for, it may still significantly boost Windows Phone's market share in China, with Huawei recently revealing that the Ascend W1 sold more than 1 million units in only a few months.
See more shots after the break.
Via CNBeta.com, thanks hengxiang32401 for the tip.