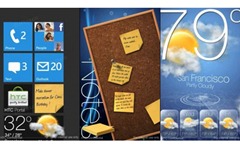 A self-confessed Android lover,  Drew Bamford, Director of User Experience at HTC and the man in charge of HTC Sense, complained of being constrained by the rigors of Windows Phone 7 customization restrictions.
Talking about the lack of the ability to deeply customize the user experience on Windows phone 7, he said :
.. certainly it's a real constraint the kinds of things they are enabling. I suspect that those constraints will loosen in time allowing us to do more. Microsoft will let us loosen the reins a bit, I wouldn't preclude HTC in the future doing something on a different operating system or even doing our own operating system, I don't think that's out of the question, because our goal is to address the needs of our users, and if we don't have the freedom to do what we need to on a given platform we'll try another platform or create our own.

We will do everything necessarily to create the best experience possible. Right now working with Microsoft and Google is the best approach, but that might not be the case in the future.

One of HTC's strength is that we are always trying new things, new form factors, new partners, and that's what's kept us in the race for so long.
With the release of Windows phone 7, which made HTC's Sense largely redundant on the Windows platform, HTC's handsets have had to compete on design and value for money, an area which OEMs like Sony Ericsson would prefer to avoid. HTC's customizations, while doing a great job at making Windows Mobile more palatable to consumers, have also often been blamed for stability problems. Even some of HTC's current crop of handsets have been blamed for having some unique issues, which has long led to questions whether the benefit was worth the cost.
Read the full interview at Pocket-lint here.