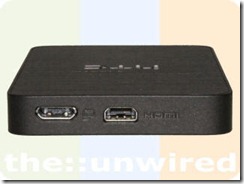 The::unwired have reviewed HTC's Media Link, which allows music, pictures and video to be streamed via DLNA to any television with HDMI input.
The device, which will cost between £80 and £90, is intended by HTC to work with their Android handsets, but appears to work perfectly well with any DLNA-compatible device, including Windows 7 PC's and the LG Optimus 7.
Arne notes:
The HTC Media Link offers a hassle-free setup and allows users to easily stream content from a PC or mobile device to a TV-set which might not feature DLNA support. The setup is easy and straight forward and doesn't requires any special network or AV knowledge. Right after the Media Link was connected to the flat screen and tuned on, I immediately found the WiFi SSID, broadcasted by the box and from there I was able to stream MP3, photos and even HD videos to the TV set. And while the HTC Media Link was announced as an accessory for the DLNA-enabled HTC Desire HD and Desire Z, in the tests it worked with every DLNA enabled device. For instance it allows to stream content from any Windows 7 PC since DLNA is part of Windows 7 but it also worked fine with the LG Optimus 7, the first and so far only Windows Phone 7 smartphone which comes with DLNA.
Until DLNA-compatible televisions become wide spread it appears to be a pretty simple upgrade to your current set, and who knows, maybe at some point HTC will bring DLNA to their Windows Phone 7 handsets also. The device should hit the market some time before the end of the year.
Read the full review of the gadget at the::unwired.net here.