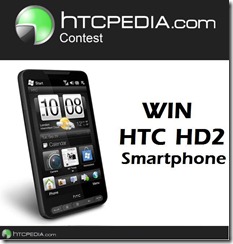 If you are yearning for a HTC HD2 but do not have the device readily available to you, either due to carrier or cost, you now have the chance of winning one for free.
HTCPedia, who happen to have 4, is giving away a HTC HD2 simply for registering and leaving a comment in this thread. The contest is open to anyone around the world and they will ship worldwide.
The contest will run for two weeks and will end on Friday, January 8th, 2010 at 11:59pm Pacific Standard Time.
Winners will be announced on  January 9th, 2010.
We plan to do a HTC HD2 contest ourselves early next year, but you are going to have to work a bit harder for it than this, so why not try your luck here.