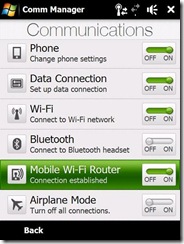 AssassinsLament on XDA-Dev has made using your Windows Mobile Smartphone as a WIFI router even easier by integrating HTC's excellent WIFI Router software into the HTC Comm Manager.  This is a great improvement on the original setup, which required finding the app in the settings menu.
The software is at present designed for VGA screens but should also work on WVGA.  It also appears to fix some cases where the software failed to work in the past, so it seems to be a suggested upgrade.
Read more at XDA-Developers here or download the cab directly here.
Via Pocketnow.com