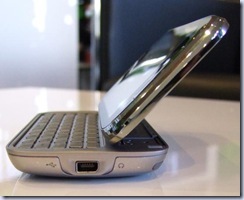 Its now day 3 of having the HTC Touch Pro 2, and we can answer some of the more complex questions.
Grant asked:
Here is a question for you!
First off,
Under normal usage on my touch pro the battery craps out after 12-14 hours. That is just a few phone calls(3), a decent amount of txt msg(20-40), and some internet browsing sessions(closing the browser and connection after each session)
Question,
Is the TP2 just as terrible on battery life? Maybe better? Hopefully not worse!
I took the phone of the charge this morning at 7:15 am. After 12:40 min of standby and 2 hours of use, with a few short phone calls, some time using bluetooth activesync, using the camera and video recorder, 2 push e-mail accounts (Exchange and Hotmail) and one IMAP checking every 5 min and generally playing around there is about 30% battery power left.
In short, with active use its a Charge Every Night device, so likely no better or worse than you are having now.
Simbadogg asks:
can you please take pictures under varying conditions w/ the camera and then publish them. I would like to see how well it takes pictures especially in low light, and high light conditions, and moving objects
Here you go. (Click for full-sized versions)
Bright light – outside
Overcast – outside
Good light – indoors
Normal light – indoors
Poor light – indoors
mosley asks:
oh, and hows the shutter speed, reaction time, time until you can make the next picture? does it take ages to make a picture like most HTCs (and omnias too) or is it now fast like the palm pre or the iphone?
The HTC Touch Pro 2 is much faster at taking pictures than the Touch Diamond and Pro or HD that preceded it. Focussing is pretty fast, and as soon as it focuses it takes a picture.  Due to lacking a hardware camera button taking the next picture is a bit of a drag, but it only takes 2-3 seconds if you are in a hurry to start the process of taking the next picture.  All in all the process is no longer painful, which I can certainly say about taking pictures on the Touch HD for example
Tarwin asked:
Hi, I have a question: Do the dual microphones come into effect with anything other than calls such as video or audio recording? Also, what exactly is the frame rate on the video recording? I've seen some sites saying 15fps, others 24fps, one said 20.xx fps
I know it's not 30fps. But I would like to know exactly which of these many different ones it is.
The dual microphones are always active, and they are incredibly sensitive, and do seem to cut down on background noise. They seem to work as HTC advertised.
Video recording is in fact VGA at 30 fps, as can be seen in this attached video here.
Download the sample (1.1 Mb) here.
Stan asked:
Is there a WM app that will allow voice to text for email and txt msg?
Is there a particular Bluetooth ear piece that will work best with TP2?
How easy is it to switch-hook when receiving another call while talking?
Vlingo does the transcribing you are asking about.
I don't have a range of bluetooth headsets to try it on ( have given up on that technology) but I can say it works perfectly with my car kit, except for an annoying message which happens when you connect and disconnect, which can be disabled with this cab here.
Now may be a good time to draw attention to HTC's skinning of the bluetooth interface, which is excellent, and seem to expose a lot of functionality which previously demanded a stylus.
Lastly, swapping multiple calls is pretty easy, as you can see in these screenshots here.  One simply need to press the swap button.
Tarwin asked again:
Oh, one more question. How well does the in-call noise cancellation work? I am not talking about the speakerphone noise cancellation (as that has been covered in all the reviews). I am referring to the noise canceling options for a normal call (it's in the manual). I'd also ask about games, but that is too vague a question.
Voice quality is good, even on normal phone calls in loud surroundings.  The HTC magic seems to be working well.
Please leave any more questions in the comments below.