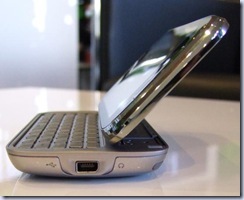 Today I will tackle some of your simpler HTC Touch Pro 2 questions.
Tom asked:
"Is there any screen play? I have heard that some peoples screens move about 5mm, which my TyTN II did not do."
The unit I have is rock solid, with great build quality.  In fact the sliding and hinge mechanism a bit too stiff.  It takes some effort to initiate sliding, and tilting also takes some force.  This will hopefully loosen up somewhat in time.
Patrick asked:
"ROM speed, any excessive lag?"
Despite having the same processor as the previous generation of devices it seems more than fast enough.  Its not the fastest recent WM smartphone I used, that would be the HTC Diamond 2 which really flew.
Kevin asked:
"In light of the impending release of the Omnia Pro, I am seriously considering skipping the Touch Pro 2 and trying the Omnia Pro. I still want a phone with a physical keyboard since it will be used primarily for company communication and I can't stand phones like the Treo Pro with their form factor. So.. with this in mind, which one is preferred by the staff at WMPoweruser and why?"
On features the Omnia Pro beats the pants of the HTC Touch Pro, but HTC seems to have a more coherent user interface.  We have not had a hands-on yet with a Samsung Omnia Pro, but hope to have one seen so we can judge whether the added hardware features is worth the UI pain.
James asked:
"1) Can I have it please???
2) Does it feel to bulky in your pocket? I have an iPhone at the moment and would really like a TP2, but an concerned of how big it is?"
1) No.  2) The Touch Pro 2 has a great hand feel, but there is no denying its a bulky device.  It will fit in your shirt pocket, but completely weigh it down.  Due to its smooth rounded shape it should not be noticeable in your trouser pocket. The short version – it is big, and noticeably so.
kk0813 asks:
"Touch Pro (FUZE) has some serious GPS lag while driving (not initial gps fix), also the volume from the speaker is not that high, I some times miss gps announcements while driving and listening to radio. In Touch Pro 2, how is the gps positional lag while driving? Can we use the dual speaker for playing mp3, or for GPS directions other than conference calls and how is the audio sound?
Is it worth upgrading from Fuze?"
And AMd asks:
"how good are the speakers especially when listing to music???….plz compre with diamond 2 and other similar devices."
Bad news is that the GPS lag is still present, with your position constantly about 5 seconds behind where you actually are. The audio volume is exceptionally loud for a phone, comparable to a small cheap transistor radio, and the quality is good enough to listen to music over the speaker and still enjoy it, with only minimal distortion  of louder passages. The dual speakers are always active. I would say its more than adequate for in-car GPS navigation use, and much louder than the Diamond 2. The use of the conference call/ speakerphone feature is addictive, and I expect people will make much more use of this than they expect.
Regarding whether its a worthy upgrade to the Fuze, its no doubt its a better device in most ways, but it is also much larger, which makes the devices not really comparable.
Rich asks:
"I have a Touch HD which I love but if the size isn't that much of a difference, I would love to get the TP2 when AT&T comes out with it. Touch HD vs TP2? Also, is the touchscreen better on the TP2 than the HD? I realize that as similar as these devices are, they are in fact targeted to a different crowd. HD is more of a multimedia device and the TP2 is more of a Pro User/Business device. They both blur the lines but I just can't seem to decide which one to get. I will have to wait and see what AT&T does to the device to see if I even want their version. It is nice to have options."
The Touch Pro 2 and Touch HD are very similar devices, with the main difference being the added bulk of the Touch Pro 2 and the lack of a 3.5mm headphone jack. Touch screen sensitivity is great. If you can tolerate the bulk I would say the Touch Pro 2 is the better device, especially due to the lack of US 3G in the Touch HD.
Jeff Jackson asks:
"Put a few hundred phone contacts on there and measure how bad the ring delay is. Is it still 3 rings like the touch pro Or have they finally fixed it?"
I have about 400 contact.  The phone comes out of suspend after one ring, and starts ringing on the second, so some improvement there.
San asked:
Video performance – is it laggy like the rest of the HTC devices? Can it play high res videos (720×400 for example) directly off the mem stick without flickers? I have an i780 and the benchmarks on tcpmp give me 250% normal rate….how does the tp2 compare? Can you compare with an i780?
This is a difficult question to answer, in that we know HTC says their devices does do video acceleration, but only through their HTC Album software. Knowing this, I ran the 480p Bruno trailer through MP4HTCHD and converted it to 752 x 448, producing a 1411 kb/sec file at 24 fps.  This played perfectly in HTC Album, but of course HTC Album does not do benchmarking. The converted trailer can be downloaded from MediaFire here (5 MB).
I have no doubt performance with non-MP4 video will be poor, but converting video is not such a huge problem, especially with nice software such as MP4HTCHD which can be downloaded here.
Vyacheslav Lanovets asked:
Could you run SKTools Benchmark or SPB Benchmark on that (CPU, Memory and Main Storage) and publish numbers?
Here you go. (other numbers from here)
| | | | |
| --- | --- | --- | --- |
|   | Samsung Omnia | HTC Touch Pro | HTC Touch Pro 2 |
| Integer Moves/25 usec | 256.8153 | 334.7872 | 334.0369 |
| Floating point | 8.733 MWIPS | 7.625 MWIPS | 7.560 MWIPS |
| RAM access | 901 | 556 | 614 |
| Draw bitmaps | 1383 | 779 | 907 |
| Main storage (write) | 2716.18 KB/sec | 8246.98 KB/sec | 2257.99 KB/sec |
| Main storage (read) | 8246.98KB/sec | 14985.37 KB/sec | 7045.87 KB/sec |
| File List | 1555 Items/sec | 1265 Items/sec | 4006 Items/sec |
| SKTools loading | 2136 ms | 2843 ms | 3866 ms |
I will answer the other questions after some research later, but if there is anything not covered please note in the comments below.