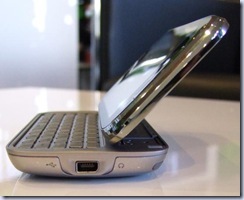 I have finally received a HTC Touch Pro 2 to review, and because the device has now been out for a while, I felt there was little point in a detailed review which may still miss the issues readers want to know about.
I have therefore decided to do the review in a Q&A format – you post your questions in the comments section, and I will do my best to answer them in the final review.
My first impressions on using the device is already of a high class bit of kit, with the chrome accents serving very nicely to enhance that perception. Screen sensitivity is also very good, with nothing more than the weight of your finger needed to activate the device.  So far, with no applications, it is also very speedy.
Drop your questions below, and look forward to a series of posts to answer them.