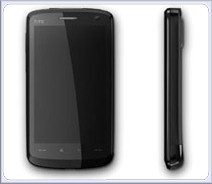 Here is the HTC Touch HD caught on video by generation-fonehouse.
Brilliant!
Note 1) The HTC Touch HD's screen appears much larger than the screen of the iPhone 3G, much more than the extra 0.3 inches would suggest, and the colour reproduction is also much better, and more vibrant.
Note 2) Also the keyboard appears pretty easy to use, again probably due to the screen size.
Note 3) the solution to zooming (an on screen zoom bar) appears to work well and seems easy to use.
Note 4) At around the 5:30 mark you can see the iPhone rendering a web page, and making a complete hash of it, while the Touch HD does it perfectly.  But as we have long known, the best mobile browser is Opera Mobile, not Safari Mobile after all.
Wrong
Right