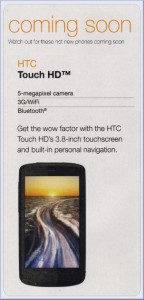 Confirming an earlier rumour, Orange UK has announced that the HTC Touch HD will be exclusive to their network until 2009.
Speaking on the announcement, Francois Mahieu, Director of Devices, Orange UK said: "We are very pleased to launch this state of the art mobile internet device exclusively on the Orange network. It is a great phone but also a wonderful multimedia handset which paves the way to even more innovations from Orange next year in the mobile internet space. The HTC Touch HD on Orange will be the must have device this Christmas for the person that wants it all".
The HTC Touch HD will be available from £79.99 on an 18 month, £40 per month contact, which includes "unlimited" anytime mobile internet browsing up to 250 MB per month. The handset will also be available from Orange in France and Romania in the forthcoming months.
Thankfully the device should be available to on other networks in the new year with less egregious plans.
More information: Orange Press release
Via theunwired.net