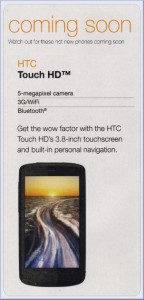 The HTC Touch HD has shown up in Orange catalogues as coming soon. Tracyandmatt.co.uk now however no longer claim that it will be exclusive to them, saying Vodafone has confirmed the device will also be showing up on their shelves.
This is great news, as I have made my feelings about Orange pretty clear in my last post 🙂
See the full page scan from the Orange catalogue at TracyandMatt.com.