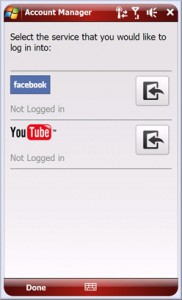 We have come across references to an Account Manager application on the HTC Touch HD, and nobody seemed to know what it was. Now that the manual is out in the open the situation has been clarified slightly.
From the manual:
Account Manager Enter and store your account information so you can log in to your favorite social networking sites such as Facebook and YouTubeâ"¢ even without opening a web browser.
While being able to log onto your own Youtube account using the Youtube application makes sense, as far as we know there is no similar Facebook application. Further clues can be found in the manual, which indicates users will be able to upload video and pictures directly to Facebook and Youtube.
Clearly we still need to find out more about the features of the application and how it works with these social networking websites, but these developments are pretty interesting.