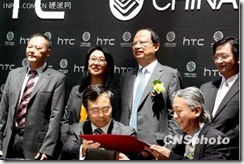 HTC has signed a Memorandum Of Understanding with China Mobile, the worlds largest cell phone carrier with over 500 million subscribers, to develop TD-SCDMA technology handsets for its new 3G network.
HTC is set to deliver one handset this year, and a further 5 next year.
The 3G handsets are likely to focus on the low-end, with China Mobile's chairman Wang Jianzhou as saying at $147 price point would be very important for spurring the adoption of the new technology.
Via Digitimes.com, picture from inpai.com.cn.