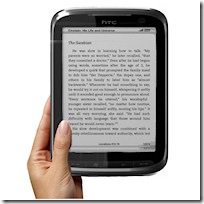 HTC has joined Microsoft and CHT, a Taiwanese carrier, in bringing e-book content not only to smartphones but also dedicated connected e-book readers.
Part of CHT's Hami book City initiative, the plan is to bring Chinese e-book content to not only the local audience but world wide.
CHT plans to make Hamibook software compatible with a variety of OSes, including OS X iPhone, Google's Android and Microsoft Windows Mobile, but also to have dedicated devices supporting the venture.
With dozens of Taiwanese magazines, news groups and other publishers listed as partners on CHT's statement, the project is set to come to market by the the first quarter 2010.
Read more at PCWorld.com here.