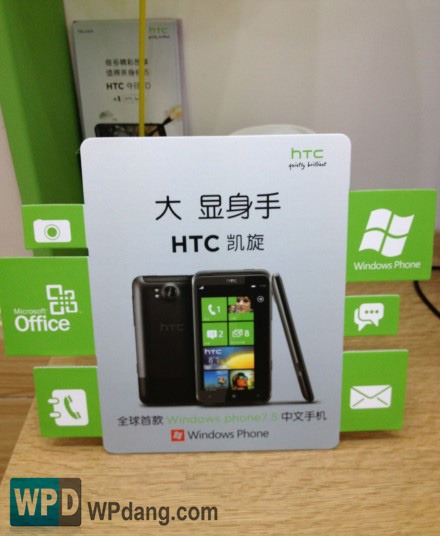 It seems HTC is getting ready to beat all the other Windows Phone OEMs to the punch and release an official Chinese localized Windows Phone into the market first.
Chinese site WPDang.com reports that HTC flagship store in Beijing's Solana mall has started taking pre-order for HTC Titan, to be released in China as the Triumph.
The handset is being promoted as the "The first ever Chinese Windows Phone 7.5 device on this planet" and "the authentic Chinese version" and is being sold for CNY 4,999 (USD 793.7).  This price is significantly more than the grey market imports, which average CNY 3,600 (USD 571.6), but then those are not "authentic Chinese version" handsets with all the appropriate localizations.
These localizations likely includes those we associate with Tango in China, including replacing the hardwired Facebook and Twitter features with local Chinese equivalents such as Weibo.
Providing for the Chinese market is increasingly important as the market there grows explosively, with China recently becoming the first country with over a billion mobile phone subscribers.
Via WPSauce.com