Press Release: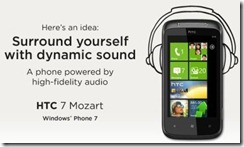 HTC & Tata DOCOMO Launch HTC 7 Mozart  
Powered by new Microsoft Windows Phone 7, HTC 7 Mozart is a Smartphone with stunning looks—crafted from a single piece of brushed aluminum
Equipped with advanced features like high-fidelity audio, 8 megapixel camera with auto focus, Xenon flash & 720p HD video recording
Tata DOCOMO customers on HTC 7 Mozart will get Special Data Offer 
New Delhi, India, 03 January 2011: HTC Corporation, a global designer of Smartphones, and Tata DOCOMO, the GSM brand of Tata Teleservices Limited, today announced the launch of the HTC 7 Mozart in India. The HTC 7 Mozart is powered by Microsoft's new Windows Phone 7 platform and seamlessly integrates the revolutionary new Windows Phone 7 experience with HTC's proven design and innovation capabilities.
Windows Phone 7
A Windows Phone 7, the HTC 7 Mozart has been carefully crafted to help people get more done in fewer steps with a unique Hub and Tile interface. The Windows Phone 7 offers quick and easy access to a person's latest and most valuable information and include People, Pictures, Games, Music & Video, and Office.  Windows Phone 7 also integrates with many popular Microsoft services such as Bing and Office.
HTC 7 Mozart
Crafted from a single piece of anodized aluminum, the HTC 7 Mozart feels great in the hand and takes HTC's unibody design aesthetic to the next level. The slim, solid and smart HTC 7 Mozart sounds as good as it looks and integrates high-fidelity, virtual surround sound. With Microsoft Zune integration, people can synchronize the HTC 7 Mozart with their PC, enabling them to take their music and video library with them wherever they go.
The phone is equipped with a vibrant 3.7-inch display with WVGA resolution and pinch-to-zoom feature. For shutterbugs, HTC 7 Mozart incorporates an 8 megapixel camera with auto focus, Xenon flash and 720p HD recording. The camera also has built-in scenes that include candlelight, landscape, and portrait to match the environment of the subject.
"The HTC 7 Mozart is a great piece of craftsmanship with some of the most advanced features and perfectly underlines HTC's focus on raising the bar in mobile phone innovation and design," said Ajay Sharma, Country Head, HTC India. "With its stunning looks, great features and the new Windows Phone 7 experience, we are positive that the HTC 7 Mozart will be a great success in India, and are extremely happy to partner Tata DOCOMO in bringing the phone here."
The HTC 7 Mozart comes with an exclusive offer for Tata DOCOMO users in India, wherein Tata DOCOMO subscribers will get Special Data Offer on HTC 7 Mozart.
"When we launched brand Tata DOCOMO last year, we had promised our subscribers that we would bring to them the best products and services—products, that will be innovative and pioneering and which would offer convenience and simplicity"Mr Sunil Tandon, Head of Mobility Services & Device Management, Tata Teleservices Limited, said. "Living up to that promise, we are launching the HTC 7 Mozart with the new Windows Phone 7 loaded on. This device, powered by our world class 3G network will deliver a truly enriching experience for the consumer. We will continue working together with HTC to launch more innovative mobile offerings for Indian consumers," he added. 
Pricing & Availability
The new HTC 7 Mozart will be available at Market Operating Price of Rs. 26,490* at all authorized HTC resellers across the country.
FYI, HTC 7 Mozart is the second Windows Phone 7 device after HTC HD7 to be launched in India.