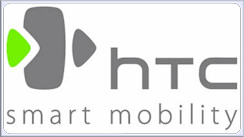 Canalys used to be a reliable source of quarterly smartphone shipping numbers, but unfortunately they have stopped releasing their research to the general public for free in a regular fashion. They have however dropped one titbit of their table today – the Q2 2008 shipment numbers of Europe, Middle East and Asia.
As usual Nokia rules the roost. They shipped 71% of 12.5 million devices. This however represented a loss of marketshare of nearly 8.5%. Fighting for the left overs were RIM, HTC, Motorola, Samsung and Others. RIM shipped 900 950 devices, representing 64% YoY growth. HTC, who is moving to self-brand devices, shipped 881 200 devices, and grew a stunning 118%. Samsung and Motorola both shipped less than half of HTC's total, with the nebulous "other" section shipping 1 million devices.
Its likely "Other" consists at least in part of various smaller Windows Mobile device OEM like Eten, HP and Palm, which would bring Windows Mobile well over RIM's shipments. It is also not clear if carrier-banded devices are being counted towards HTC's total for example. Either way, with the market only growing 28% YoY, its good to see Windows Mobile devices growing marketshare so dramatically.
Apple did not feature.
Souce: Canalys