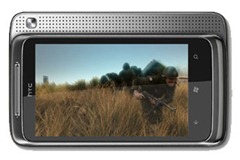 Techlicious have reviewed the HTC Surround, set to arrive soon on AT&T, and have not come away overly impressed.
Their dislike of the handset has nothing to do with the OS, but with the questionable decision to include the slide-out speakers in the unique device.
They write:
I've spent much of the last week hands-on with the HTC 7 Surround and have come away with an appreciation for the potential of Windows Phone 7. But that appreciation does not carry over, for the most part, to the HTC 7 Surround.
They note the handset is the heaviest of those available in USA, and despite this will have the smallest screen. Worse still the large speakers only sound marginally better than competing smartphones. They found the on screen keyboard good, battery life reasonable and the camera adequate.
They conclude:
Should you buy it?

When compared to the other Windows Phone 7 devices, the HTC 7 Surround doesn't shine. And when you broaden the choices to Apple and Android, my view is that the HTC 7 will be lost in the crowd.

The HTC 7's speaker bar delivers better but not much better sound, and it adds considerable weight and bulk to the device. And don't most people use headphones, anyway?

The kickstand is also nice, but other Windows Phone 7 devices with larger displays and kickstands will be available shortly after, including the HTC 7HD for T-Mobile due in mid-November. And there are plenty of Android devices which offer more attractive displays, including the Motorola Droid X, Samsung Galaxy S line, and HTC EVO.

In all other regards, the HTC 7 Surround is simply average. And I just don't think average is going to cut it anymore.
Read their full review here.