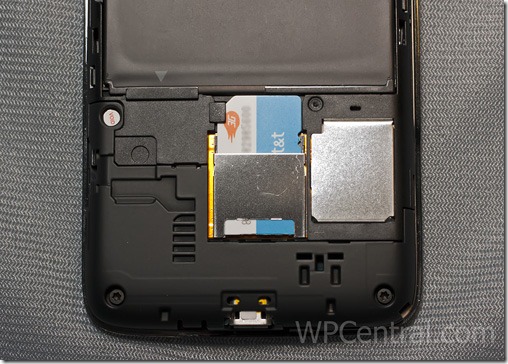 WPCentral have had a go at their HTC Surround, trying to see, if like the HTC HD7, the device has upgradable storage.
Their research did not return encouraging results. They write:
When you remove the battery cover, you'll see the SIM card slot and next to it a metal cover that's just about the right size for a memory card. The cover is secured by the phone's backing that is riddled with tiny screws with "VOID" stickers covering them.  You also have several metal tabs/hooks that pinch into the backing to help hold it in place plus, what appears to be, a plastic rivet holding things down as well.  On top of all that, there's no mention of accessing the microSD card slot in the User's Manual.
With the HTC Surround already sporting 16 GB storage, it is likely not worth breaking the plastic rivet, curling over all the metal hooks and breaking all of the void stickers just to find out. Of course the brave and foolish person which actually goes ahead and do this will earn an eternal place in the Windows phone hall of fame 😉 .
Read more at WPCentral here.