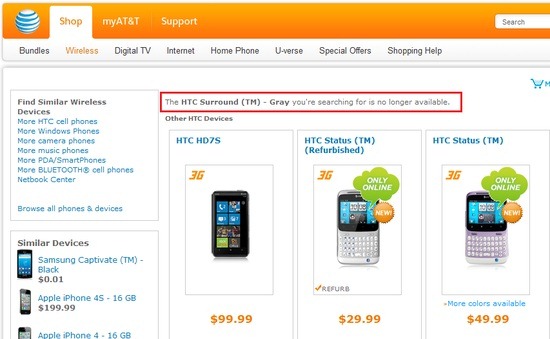 It appears the HTC Surround, always a rather odd duck entertainment device, has received its curtain call, as a search on both AT&T and Telus's websites will show the device to be no longer available.
Hopefully this is to make way for another entertainment-focussed device, the HTC Titan, although it would have been an even better substitute if the Titan supported Beats Audio, which we believe it does not.
It does however seem time to say farewell to the older generation of Windows Phone 7 handsets and welcome a new set, which on AT&T will include the HTC Titan, Samsung Focus S and Samsung Focus Flash, all worthy successors, into the fold.  Hopefully the handsets will hit the market soon, before the holiday season gets too near.
Via WPCentral and Windows Phone Daily