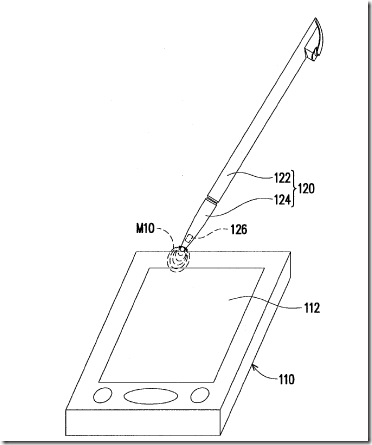 Capacitive screens have received  a great reception for their sensitivity to touch, but has left many stylus affectionados who appreciate the precision and other advantages of a stand-off pointing device feeling left out.
As HTC explains:
However, in order to cater to the user's operation mode of using a finger, icons displayed on a screen must be configured in an appropriate size to prevent the user from miss touching the icons. Furthermore, a part of the screen is often shielded by finger of the user when the capacitive touch panel is used. Moreover, a conventional stylus has a small head, so that a user can click small icons conveniently, but the conventional stylus is only applicable to resistive touch panels, but not applicable to capacitive touch panels.
Not to worry however, as HTC has a solution ready for the market.  They have patented an ordinary stylus but with a twist.  The stylus has a magnetic head, and due to the current induced by its movement relative to the capacitive screen is able to elicit the same electrical reaction as a finger, but with much more precision.
A solution to the stylus problem is clearly important for HTC, who wishes to address the stylus-centric Asian market, making it likely this is one invention we will see come to market sooner rather than later.
Read the full patent here.