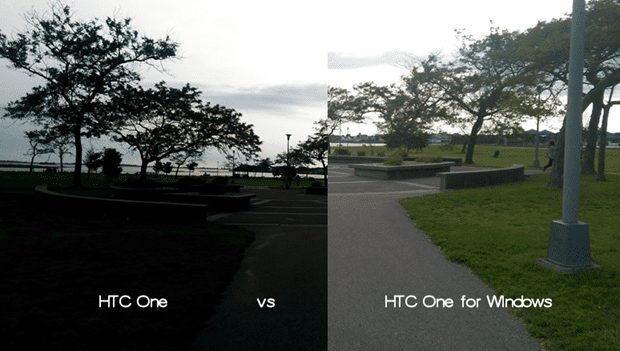 ForLoveofTech have posted some comparison pictures of the HTC One Android version vs the HTC One for Windows and also the Nokia Lumia 1020.
In general it seems that the HTC One for Android produced more vibrant pictures, but that it handled white balance quite poorly, as can be seen in the example picture above.
| | | |
| --- | --- | --- |
| | | |
| HTC One | HTC One for Windows | NL 1020 |
They note:
What you will notice is that the photo from the Android version of the HTC One M8 is much darker. The Android version seems to do this thing where if too much of the sky is in the photo, the rest of it immediately becomes very dark. Adjust the camera angle just a bit and it returns to normal.

The colors do appear more vibrant in the first three photos but the other photos appear more realistic. The effect of those vibrant colors can be achieved by changing the settings on the camera of the HTC One M8 for Windows. Heck, those effects can be achieved with an Instagram filter.
| | | |
| --- | --- | --- |
| | | |
| HTC One | HTC One for Windows | NL 1020 |
They therefore conclude:
The reason that the Windows Phone camera is better is because photo #4 on Android can't be fixed to look like the others, but photos #1-3 on Windows Phone can be fixed to look like the Android version.
See many more example pictures at their website here.