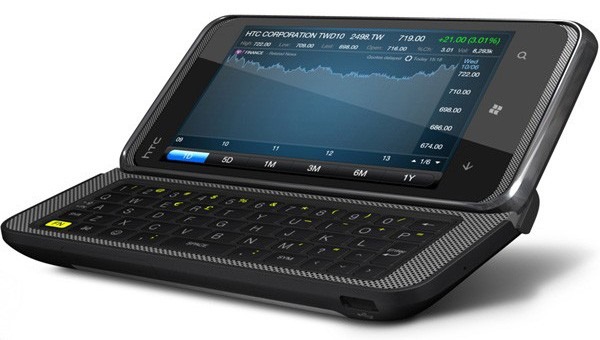 Press Release: HTC Corporation, a global designer of smartphones, today announces the launch of HTC 7 Pro and HTC Gratia in the UK from February 2011.
"We are proud to be able to add two new phones to our already diverse UK product portfolio," said Jon French, executive director, HTC UK, Ireland and South Africa. "Both phones offer the stand-out design and innovation for which HTC has become renowned. With the fresh and exciting mobile experience of the Windows Phone 7 platform, HTC 7 Pro is for users who want to combine the ultimate in business efficiency with the ability to take full advantage of their leisure time. The elegant HTC Gratia is designed for those people looking for a compact yet powerful Android smartphone."
HTC 7 Pro
HTC 7 Pro combines powerful business features with multimedia performance and flexibility that make it the ideal phone both during and outside of work hours. The screen slides open and tilts to reveal a full QWERTY keyboard for fast, comfortable typing, while productivity features such as the ability to sort, scan and manage Outlook email, open and edit the latest Office documents and keep track of the markets with HTC's stocks application, offer new ways to get more out of the business day.
With a tilting 3.6" screen, the power of a 1Ghz processor and cutting edge technology such as Dolby MobileTM and SRS WOW HDTM, the HTC 7 Pro delivers a rich multimedia experience. The integration of many popular Microsoft services such as Xbox LIVE, Windows Live, Bing and Zune makes this handset the ideal companion for business users who want to take their entertainment with them wherever they go.
The unique Hub and Tile interface of Windows Phone 7 makes information quick and easy to access by grouping it into Hubs such as People, Pictures, Games, Music & Video, Office and Marketplace content and displaying the most up-to-date information on the homescreen Tile. Users will also be able to access exclusive applications and utilities through the HTC Hub. These include a weather and stocks application and a photo enhancer that enables special effects to be applied before sharing photos with friends.
Availability
From February 2011 the HTC 7 Pro will be available in the UK through HTC's distribution partner Brightpoint GB and Brightstar with HTC Gratia available through Brightstar only.
Comment:
It is unfortunately interesting that HTC did not announce any UK carrier partners, and we hope this information is still to be announced, as at around £450 it is rather expensive to buy without a subsidy.