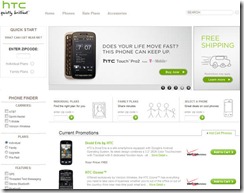 Press Release: Today, HTC announced the launch of its e-commerce site at www.shopamerica.htc.com. On this website, consumers can now browse and purchase from a range of HTC phones and accessories, as well as activate their new handset by selecting a rate plan from one of the four nationwide US operators.
"As HTC continues to grow its brand and customer base, we believe it is important to have one place for our customers to find very best devices, plans and accessories to match their lifestyle and needs. Personal choice guides our products, and it is also what we are looking to bring to the online shopping experience that we are announcing today," said Jason Mackenzie, Vice President of HTC America. "We realize that there is no one-size-fits-all solution when it comes to smartphones and service plans, which is why HTC is committed to delivering an experience that makes it easy to find the right solution for individual needs."
When a customer accesses the site, available devices can be filtered by carrier, type of rate plan and desired features. After making the selection and checking out, activated devices and accessory orders of at least $50 are sent to the customer with no shipping charges. HTC also offers a 15-day money back guarantee allowing any equipment purchased online to be returned within that time frame free of charge. Additionally, customers also have the option to finalize their purchases over the phone.
The www.shopamerica.htc.com site also stocks a wide selection of hard-to-find accessories for customers looking to truly personalize their mobile experience. Items ranging from wrist straps and gel skins to home audio cables and international travel kits are all easily available in one place for the first time.
via theunwired.net